Discover Cisbio's solutions, with kits and reagents dedicated to neuroscience research
It is reported that about 40 million people around the globe are living with Dementia, and this number is likely to at least double by 2050.The study of all the neurodegenerative disorders and the associated molecular pathway represents one of the greatest challenges faced by researchers today. In this dedicated webpage, you will discover solutions, methods, and contents to help you in your day to day research.
Boost your research on Alzheimer's disease
Neurodegenerative diseases have been correlated to proteinopathies, owing to the excessive accumulation of misfolded, hyperphosphorylated, and aggregated proteins. These protein inclusions within neurons represent the primary hallmarks of major disorders such as Tau and amyloid-β proteins in Alzheimer's Disease.
Our company already provides a large selection of life science assays to quantify these valuable biomarkers that represent the key signatures of neurodegenerative diseases
Neuroscience guide
If you want to learn more and discover a large panel of molecular pathways involved in Alzheimer's Disease progression and in other neurodegenerative diseases, download our neuroscience guide here.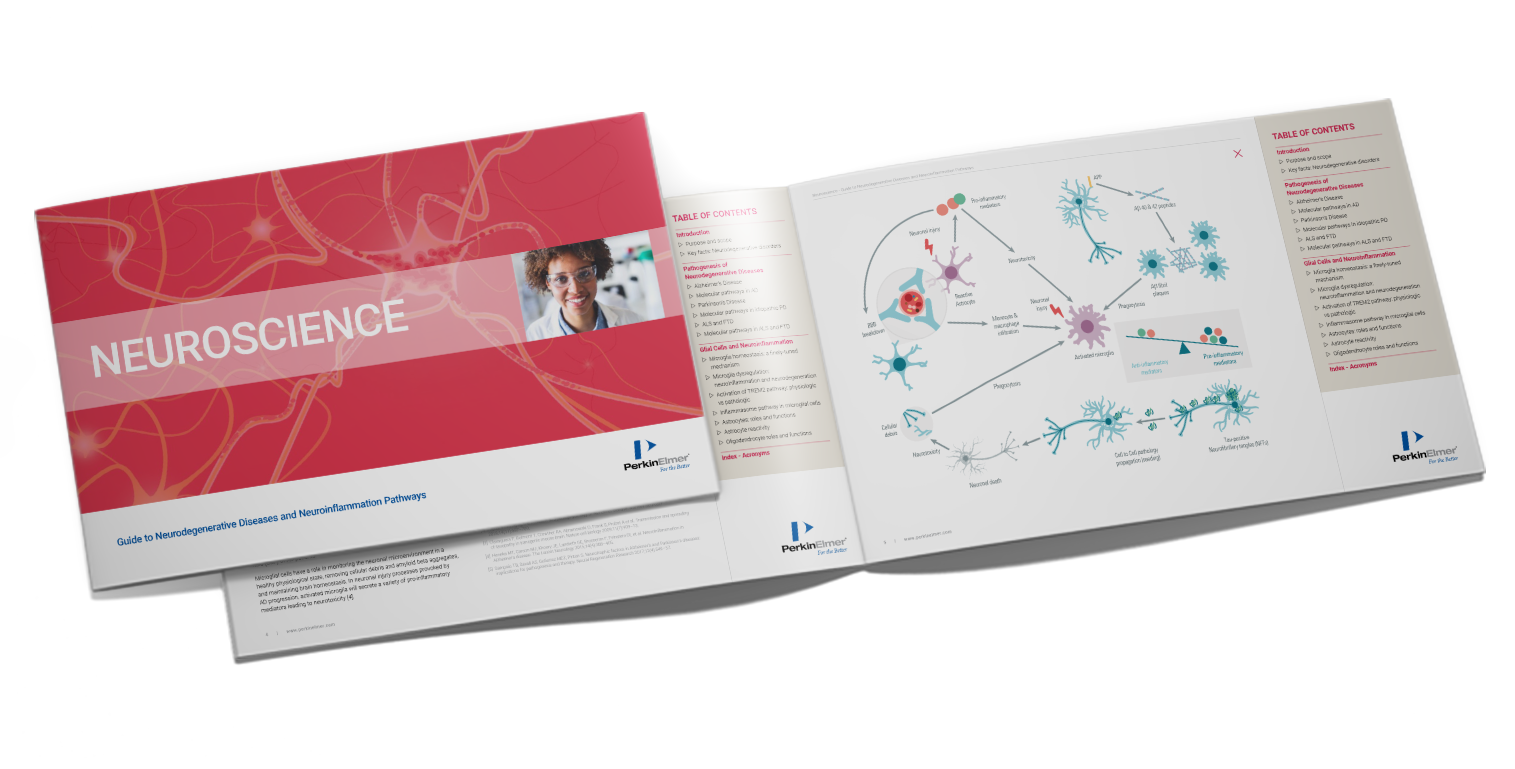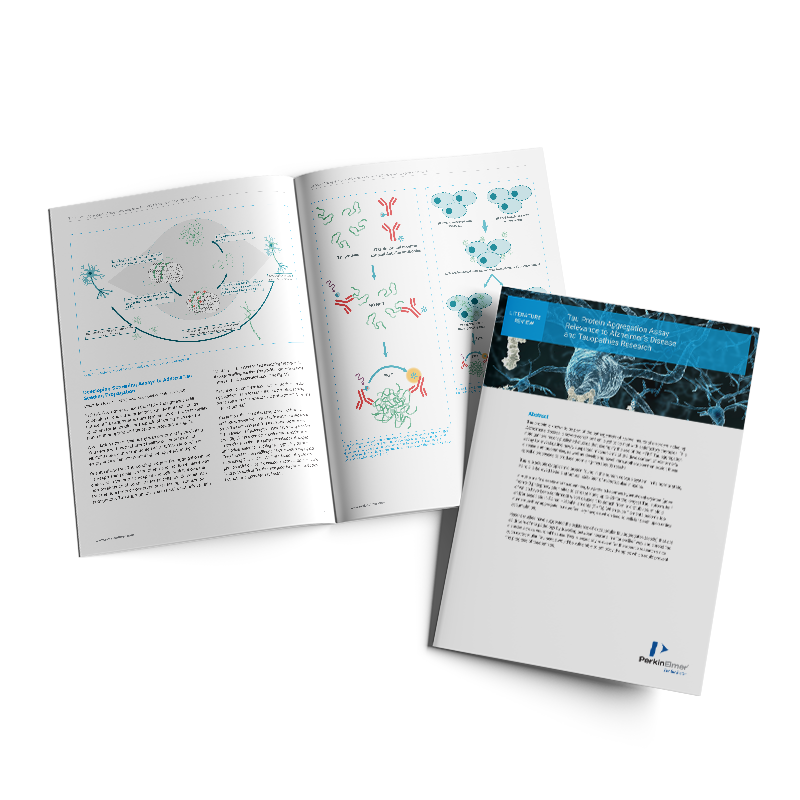 Literature review about Tau investigation
The propagation of the aggregate form of the TAU protein is known to be involved in the pathogenesis of several neuronal disorders, including Alzheimer's Disease. This note groups recently published studies giving examples of the use of HTRF assays for TAU aggregation studies.
Dive deeper into Parkinson's disease
A characteristic of many neurodegenerative diseases is the dysfunction in protein homeostasis and/or the aggregation of some proteins. Protein inclusions within neurons represent the primary hallmark of the major disorders such as α-Synuclein in Parkinson's Disease.
Protein aggregation is increasingly considered a late stage hallmark of the disease. The key challenge is to identify biomarkers that are detected early, well before symptoms appear.
Our goal is to develop assays to track dysfunctions in neuronal protein degradation involving autophagy and mitophagy mechanisms, as well as important markers of neuroinflammation, to tackle attractive targets and open new hopes for the identification of innovative treatments.
Poster on alpha-synuclein investigation
Cisbio provides various solutions to measure Total α-Synuclein, phosphorylated α-Synuclein (S129), or aggregated a-Synuclein on variable samples for in vitro testing. Download the poster to discover how.
Neuroscience guide
Neurodegenerative diseases such as Parkinson's Disease occur as a result of neuroinflammation and neurodegenerative progression. For the moment, these diseases are incurable. However as research progresses, many similarities between these diseases have been found at a sub-cellular level. This guide provides you with an overview of the current knowledge on neuroinflammation and neurodegeneration.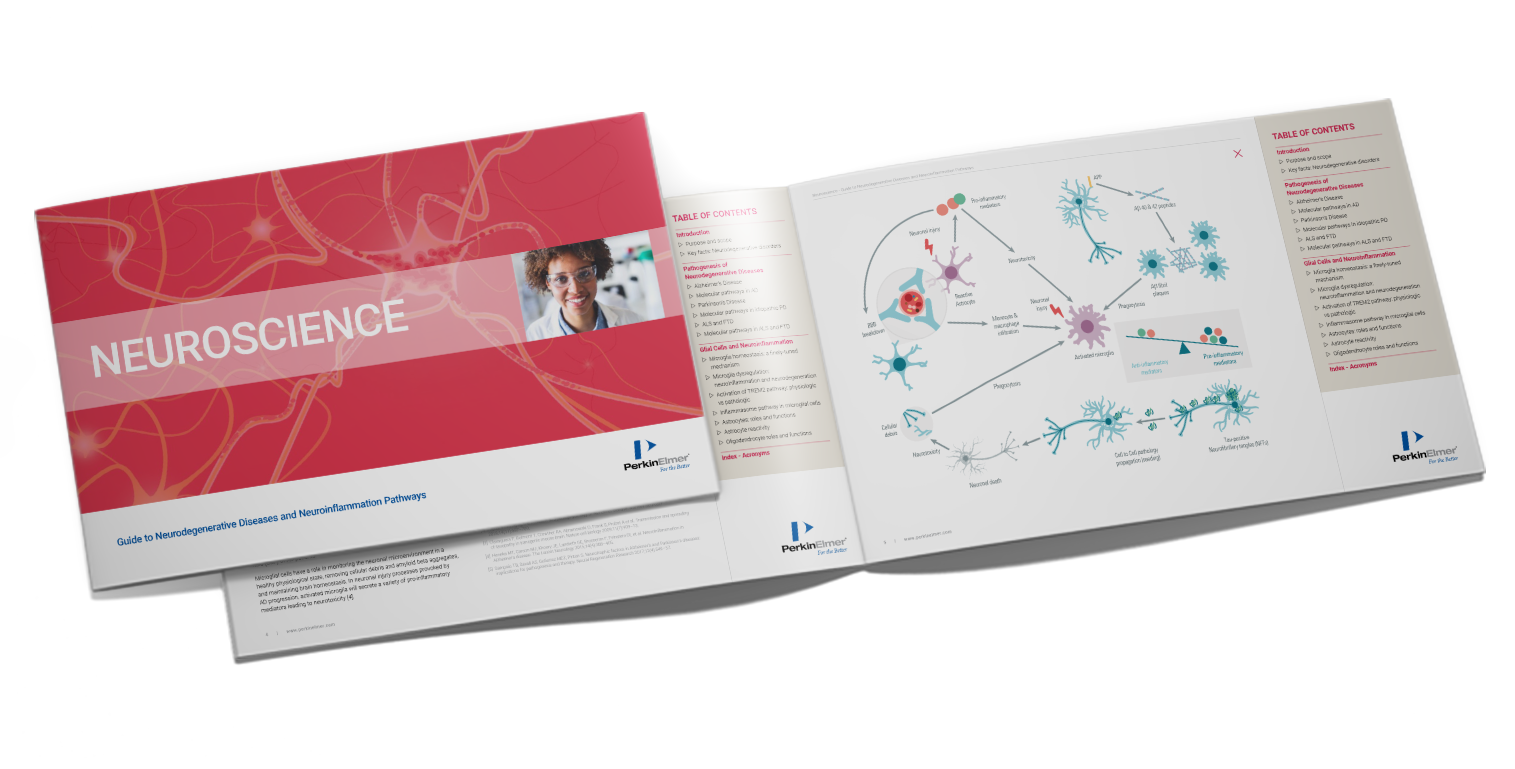 Tackling ALS and FTD research with HTRF technology
Amyotrophic lateral sclerosis (ALS) is a neurodegenerative disease that affects the motor system and leads to progressive muscle weakness, including that of the respiratory system. Frontotemporal dementia (FTD) is a disease characterized by the degeneration of cortical neurons (frontal and temporal lobes) and basal ganglia, associated with a loss of cognitive functions as well as behavioral and personality changes.
Up to 50% of patients with ALS develop frontotemporal dysfunction, while 15% of patients with FTD develop motor neuron dysfunction. Despite distinctly different symptoms, ALS and FTD share significant overlaps at the molecular level.
Cisbio offers you several solutions and reagents to investigate FTD and ALS.
Neuroscience guide
Discover the emerging pathways involved in ALS and FTD. Benefit from this guide to get a better understanding of the molecular and cellular basis of neurodegenerative diseases.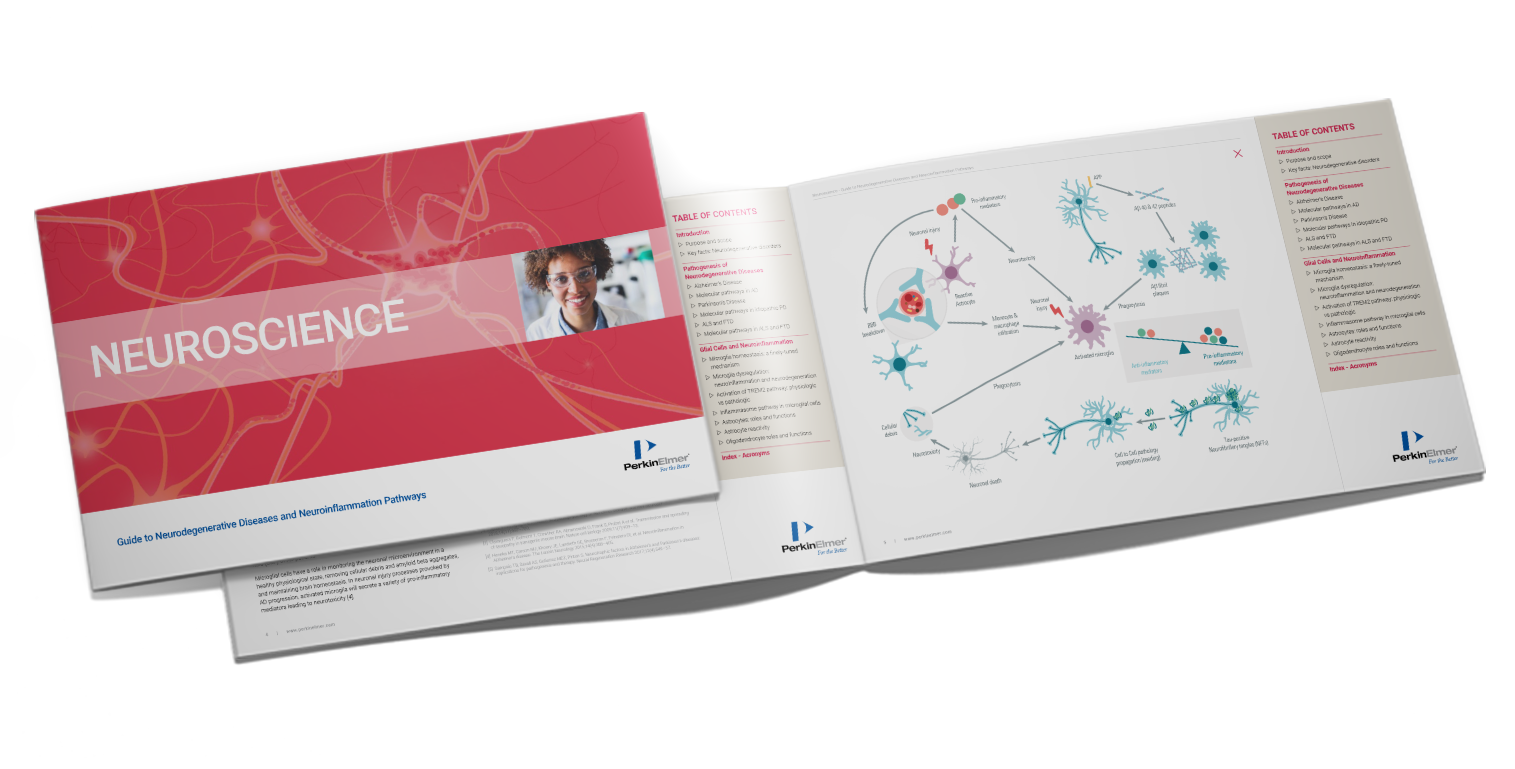 Cisbio's offer on rare diseases
A characteristic of many neurodegenerative diseases, including rare diseases such as Spinal Muscular Atrophy and Friedreich's ataxia, is a dysfunction in protein homeostasis and/or the aggregation of some proteins.
Cisbio has developed a panel of ready-to-use assays to monitor biomarkers involved in challenging neurodegenerative diseases.
Taking neuroinflammation research a step further
Chronic neuroinflammation and related innate immune responses triggered by microglial and astrocyte cells play a major role in the development of neurodegenerative diseases. Neuroinflammation mediated by glial cells (microglia & astrocytes) is recognized as an important mechanism regulating brain function and dysfunction, thus contributing to the onset of neurodegenerative diseases.
Cisbio offers a wide range of high-quality cytokine, chemokine, biomarker and phosphorylation assays to monitor neuroinflammatory processes.